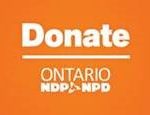 Sisters and Brothers:
We are heading into a major election this year in Ontario.
As a worker, there is only one party that I can support as a Union member and leader of the IAM in Canada: the Ontario New Democrats. This is a party that stood beside Labour in the fight for $15 and Fairness, and it is the only party that truly holds Kathleen Wynne's Liberals to account. Certainly the Conservatives are not an option; we only need to remember our last election cycle, when the Ontario Conservatives promised to gut Labour law in Ontario and bring in a US-style Right-To-Work legislation.
That's why I am urging our members to support the Party that makes the most sense for Ontario workers, and start building a social structure in this Province that benefits working families. As you are likely aware, direct contributions from organizations are prohibited in Ontario; only individual contributions from residents are allowed.
The IAM has partnered with the Ontario NDP in their fundraising efforts, and we are providing IAM members an opportunity to support the Party financially. Election campaigns require a great deal of hard work, and the funding to carry out our mandate. We are asking you to consider supporting the Party that supports workers. All contributions are tax-deductible.
Please click the link below for more information, and for your opportunity to make a contribution:
Let's make a change in Ontario, and get out and win this election!
Stan Pickthall
General Vice-President